I would like to show you a tool, with which you can differentiate your products and brands from your competitors' at the POP.
My target is to introduce you a product, but the concept is much more enthusiastic with which you can identify your products or services. I hope I can make you be inspired to find new ways of communication.
Important question is every time how can we communicate advantages of our products to develop a strong emotional connection in customers to our products. This emotional connection can based on the feeling of closeness of the brand to them, this is their products, parameters developed on their demands, the messages of the advertisements and communications are for them, they areimportant for the producer, they are loved by the producer. If our communication (and the whole marketing process) was effective we will have a lot of ambassadors of our products, who will try convince their familiars and friends our products are the best..
Developing emotional connections can be managed by symbols, design and art, the image. With consistent usage of these tools we can sent our message to the customers on an efficient way, with which we can differentiate our brands from the others.
By my experience this procedure is more effective if artistic tools and symbols are both emotionally and physically closer to the customers. Probably the best solution if they can carry their messenger to home and use it more or less often or they can regularly meet with it at the POP. We can increase the product knowledge though mass media as well, but it needs good luck, good creativity and a lot of money to reach demanded effect.
Our offer is a tool with artistic value, with symbols selected by you to communicate advantages to your target customers and differentiate your products from the others.
This tool is a branded beer fount, but it can be another type of POS materials, which related to your product consumption. We suggest you to use the selected symbol on the other communicational material. Probably the best tool if the POSM has a value in itself and has a function as a gift (e.g. shirt of my favourite club).
BEER FONT PRODUCTION
A possibility of manufacturing beer fonts first opened up for our company in the spring of 2006, when SAB Miller provided us with an opportunity to enter a request for proposals to manufacture a new font for the brand Dreher. Finally, SAB Miller opted for our product, which we currently supply on a continuous basis.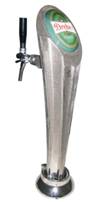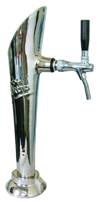 Examining our further possibilities in the field of manufacturing beer fonts, we have arrived at the idea of creating limited-edition fonts specific to individual beer brands or pubs/bars, modelled in the form of sculptures of artistic value, which appeared to be an exciting course of development. Manufacturing these, we could equally exploit our experience obtained in sculpting and our capacity developed while manufacturing the Dreher font. A glimpse into the international choice available has reinforced our determination. What we have found in this segment were either extremely expensive premium fonts made of sheets of metal, or fonts of very poor quality or downright tasteless.
In the past eighteen months, we have reviewed the process of manufacturing fonts, in addition to our business potentials, and now we are able to manage the entire process from the design phase to providing training on installation and use, what is more, to post-installation repair services in Hungary:
Creating technical drawings of the planned font, reflecting the original marketing idea (carried out by a graphic artist or a sculptor)
Plaster casting of the approved design by a sculptor
Approval of the sample plaster cast
Manufacturing
Obtaining permits, preparing documentation (within the European Union)
User training
Installation, repair services provided under guarantee (only in Hungary for the time being)
We are prepared to manufacture a limited number (or unique pieces) of high-quality, sculpture-like beer fonts decorated with highly detailed designs or complicated geometric patterns. This technology can be used to present or express the high quality of the respective products or the point of sale, which can be used to realise a higher profit margin, or a better value for money.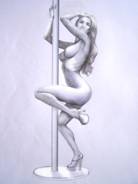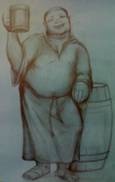 Accordingly, the technology of manufacturing does not support tens of thousands of products. If highly detailed pieces are needed in large quantities, a different technology needs to be applied. We can provide help with this on request, and it is well worth consulting us, because individualization of certain elements may be feasible, which considerably reduces manufacturing costs besides featuring a distinctive appearance.
In line with what has been said above, a less expensive solution may be to apply an accessory of artistic value in order to add a specific feature to the existing beer fonts and to reflect the pub/restaurant or the beer brand. We are readily available to design and manufacture such accessories.
In order to provide a palpable demonstration of our concept, we have designed and constructed the first sculpture-like premium font entitled "Beer master of the good old times".